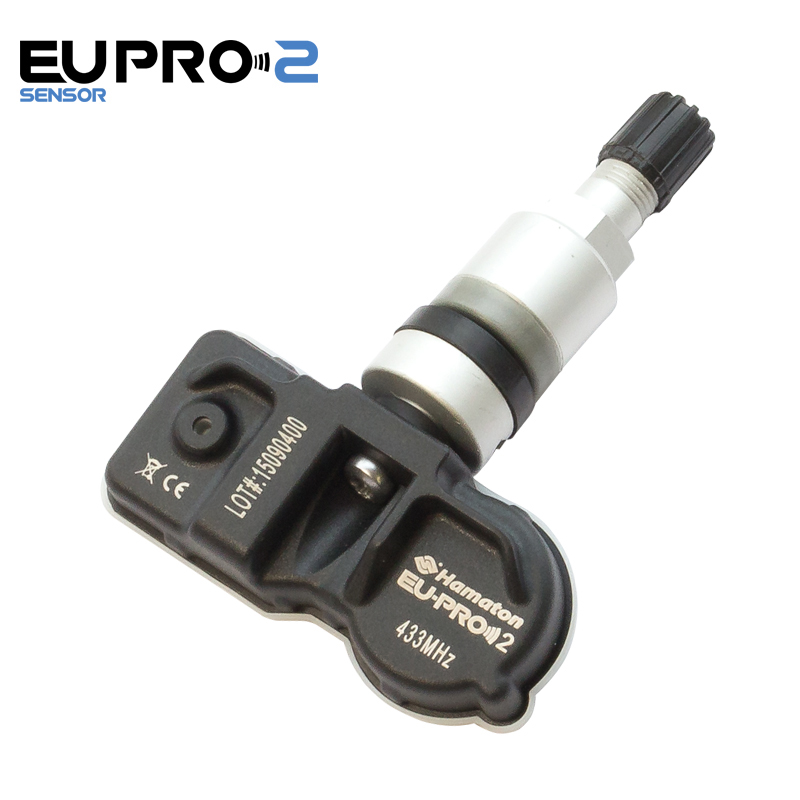 The New EU Pro 2 - Pre-Order Now!
09-09-2015
Excellent European Vehicle Coverage, Market Leading Speed of Configuration, Smaller Lighter Construction, the Latest Freescale Chipset, 7 Year Battery and 2 Year Sensor Warranty
As a complement to the existing EU-Pro sensor, Hamaton launches a new sensor for the European aftermarket. The EU-Pro 2 sensor is the next generation from Hamaton. This second sensor in the Hamaton range significantly raises the EU-Pro and EU-Pro 2 combined coverage of current TPMS equipped vehicles to almost 97%. The new EU-Pro 2, like the current EU-Pro, is configured in only 2 to 3 seconds and can now be configured by major Diagnostic brands, ATEQ, TECNOMOTOR, TEXA and very soon BRAIN BEE. As the configuration time is so quick, in comparison to normal programmable sensors, users will see a significant difference in the time taken to create new sensors. The EU-Pro configures ten times faster than most popular sensors. For the winter market this saving in time will make a massive difference to the way the tyre bay works, configuring the EU-Pro is virtually, instantaneous. As the sensor already stores all the protocol data the chance of interference during configuration is ZERO. This is not the case with other popular sensors, where restarting the reprogramming process is often required. The EU-Pro 2 sensor has a new 7 year battery, which has been specially designed for Hamaton by Maxell, the market leader in battery technology. The EU-Pro 2 also has the very latest Freescale chipset, this chipset is smaller and lighter, and more powerful. This allows a new smaller lighter housing, whilst offering more functionality for the future as the sensor market becomes more complex. Hamaton offers their sensors with a two year warranty. Please take note that there will be limited stock available. For further information click
HERE
.