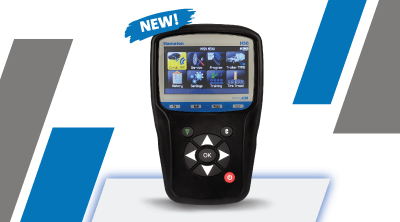 Hamaton Unveils Powerful TPMS Tool with Free Updates and Time-Saving Features
11-09-2020
Following the tremendous success of the H36, H46 and H47, we have teamed up with ATEQ once again - the world's leading TPMS tool manufacturer - to launch its next advantageous TPMS solution.
The new H56 is our most powerful TPMS tool. The H56 boasts the same great features as ATEQ's all-in-one VT56 but comes with free software updates for five years* – four more than its counterpart.
One of its great features is ATEQ's patented Sync-ID technology. As a result, technicians can perform an OBDII relearn in under two minutes on over 90% of vehicles, helping improve work efficiency. An OBDII relearn is simpler than manual relearns because it is the same process for every vehicle. Just read the sensors, connect the (included) OBDII module, transfer the data and go.
Another time-saving feature is WIFI Updates. WIFI Updates, which enable tools to be updated wirelessly, have streamlined updating by eliminating the need for a PC/laptop.
Other significant features include Manual ID Entry and Retrieve ID, which, respectively, allow users to input sensor IDs or obtain them from the ECU (with an OBDII module). Sensor IDs can be stored, then used to configure/program new sensors, bypassing relearns as IDs remain the same. These are ideal when cloning is not possible, for example, if the sensor's battery is dead.
The H56 quickly configures EU-Pro generations, programs Hybrid NFC/3.5 sensors and reads 100% of OEM sensors. And, if necessary, users can upgrade to configure/program all popular universal sensors*. Furthermore, its database contains a wealth of vehicle information for five key regions (Europe, Japan, Korea, North America, and Russia), which is kept up to date thanks to frequent software releases.
To coincide with its release, we are also launching three fantastic bundles, so customers can stock up and save this winter season. The bundles combine the efficient H56 TPMS tool and versatile EU-Pro Hybrid 3.5 sensors (8, 16 or 24).
Please contact our sales team if you would like further information or to place an order.
*Free updates for five years will cease if you upgrade to All Sensor option.