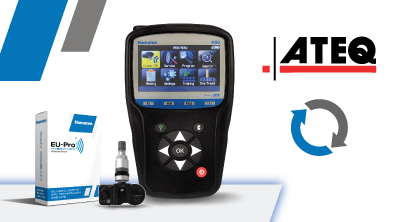 New Hybrid NFC Sensor Added to ATEQ Software
16-10-2020
The Q3 software update sees ATEQ - the world's leading TPMS tool manufacturer - increase its sensor database. And, we are delighted to announce this includes the addition of our new EU-Pro Hybrid NFC - the first NFC-enabled universal sensor. Click here to watch a video showcasing its top 6 advantages.
Therefore, you can configure/program Hybrid NFC sensors with an ATEQ or Hamaton TPMS tool as well as an Android device and free app.
But, beforehand, YOU MUST UPDATE YOUR TPMS TOOL to unlock Hybrid NFC sensors.
Update today and configure straight away…when your sensors arrive!
Furthermore, if you have a Hamaton H56 or ATEQ VT56, you can update your tool wirelessly via WiFi. We have created a short video to demonstrate how to do this – view now.
If you need any further assistance, please do not hesitate to contact our dedicated IT support team by email.