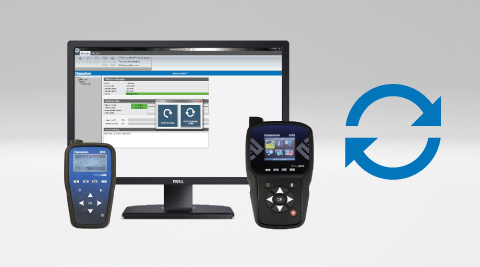 New diagnostic tool software released
26-09-2017
A new software update for all ATEQ devices has been released, including updates for the H46 and H36 tools. The update includes new OE coverage, improved programmable sensor coverage, as well as new functionalities and corrections. Customers are advised to update their diagnostic tools at their earliest convenience.
New versions now available:
H36 version Hx1-12-0x
H46 version Jx2-09-0x
Improvements and fixes:
All tools: Bug fixing
H36 and H46: Keyfob testing has been improved
H46: Pressing "C" for a long time brings back to the main menu. Same as the VT56.
H46: Toyota Unlock ECU button has been added.
New content for Europe:
New OE sensor coverage for: Abarth/Fiat 500-60th; Audi A8/S8 (D5); BMW X3 (G01); Citroen C3 Aircross; Ferrari 812 Superfast; Hyundai Kona; Kia Stinger and Stonic; Land Rover Range Rover Vogue, Nissan Juke 2; Opel/Vauxhall Grandland X; Seat Arona and Ibiza 5; Skoda Rapid 5; Ssangyong LUVi; Volkswagen Polo 6, T-Roc and Tiguan Allspace.
Updated OE sensor/TPMS information for Fiat Fullback, Kia Cerato, Nissan Juke and X-Trail, Opel/Vauxhall Insignia Sports Tourer, Peugeot Expert 2, Renault Kaptur, Ssangyong Rexton, Volkswagen Phaeton.
New aftermarket sensor coverage for: Schrader EZ-sensor, Alcar by Schrader, Italsensor, Alligator Sens-it, HUF Intellisens, Hamaton EU-Pro/Tyresure T-Pro, Orange Direct Fit EU/Simple Sensor and Mobiletron.
Fixes: VT46: Toyota C-HR OBD issue is fixed