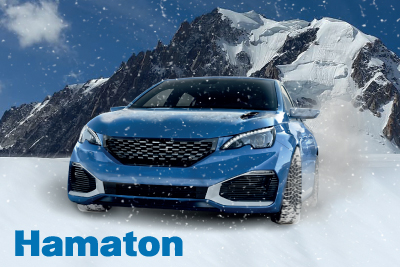 Six steps for dealing with TPMS during the Winter season
06-10-2017
The TPMS experts at Hamaton Ltd have recommended a best practice procedure for tyre bays, in the run up to the busy Winter tyre change-over season. Aimed at helping tyre bays reduce the risk of damage caused to sensors when tyres are changed, the six-step
The first step in the process involves carrying out an initial visual inspection to check the valve for corrosion, or any other obvious faults. This is followed by scanning and testing the sensor in the second step, allowing the technician to determine whether vehicles manufactured prior to 2014 are fitted with TPMS or not. Once this has been identified, the sensors should be scanned and tested using a TPMS diagnostic tool (such as the H46) to check that they are functioning properly and confirm their battery status.
The third (and possibly most important) step involves having a discussion with the customer to explain the need for servicing or replacement of the sensor valve; this protects the business against liability for any damage caused to the valves during tyre changes, as old or corroded Clamp-In valves are easily broken. Then if agreed with the customer, the fourth step is to repair or service the sensor or valve. For rubber Snap-In sensors, servicing means replacing the whole valve - whereas with Clamp-Ins, individual parts of the valve can be serviced, however it is usually better to replace the whole valve.
Step five requires re-testing the sensor to ensure it is still working correctly - regardless of whether the sensors have been serviced or replaced. Finally, it is recommended that the TPMS data is printed using the diagnostic tool to record the sensor positions and IDs, temperature, pressure and battery status; which can then be provided along with the customer's invoice and saved on the business' computer system for future reference.
Martin Blakey, Managing Director for Hamaton Ltd, said: "Following these six steps will allow tyre bays and garages to take the risk out of performing tyre changes, while also giving them the ability to start using TPMS as a genuine revenue stream by increasing opportunities for servicing and maximising profits."