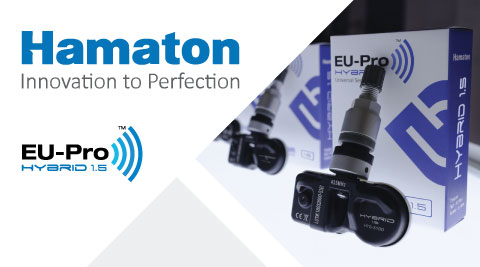 Hamaton increase sensor vehicle coverage, welcome the Hybrid 1.5!
25-07-2018
Hamaton, dedicated to developing the most advanced TPMS solutions, has launched an upgraded version of their successful universal EU-Pro Hybrid sensor for the European aftermarket that has increased vehicle coverage.
The EU-Pro Hybrid 1.5 provides complete flexibility. In addition to already high vehicle coverage, it is now compatible with 99% of 2018 direct TPMS-enabled vehicles. Furthermore, its dual valve technology enables you to exchange between an alloy Clamp-In, black Clamp-In or Snap-In valve.
Therefore, garages and tyre bays can take advantage of stock optimisation. Significantly reduced inventory levels free-up cash to meet other expenses and storage space to expand product offering.
What's more, the EU-Pro Hybrid 1.5 is the fastest, configurable sensor on the market, banishing long waiting times for superior customer service, which is strengthened by its compact, lightweight design that eases installation.
So, for TPMS sensors, look no further than Hamaton. Hamaton places great emphasis on quality, an overriding factor in their success. Hamaton's TPMS sensors are manufactured then tested on a fully-automated, environmentally-controlled production line. TÜV Süd recognises this meticulous manufacturing process as a Quality Management System that fulfils the requirements of IATF 16949. Therefore, customers can rest assured that they will obtain a premium product.
Click here for further details