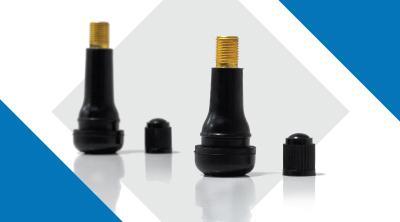 Hamaton expands valve portfolio with cost-efficient, lightweight, fast flow series
14-01-2019
We have introduced advantageous new additions to our already extensive valve portfolio - TR413 and TR414 Snap-In valves with aluminium cores, which are cost-efficient, lightweight and fast flowing.
When compared to its brass counterpart, in-house testing identified our TR413/TR414 Snap-In valve with aluminium core upholds the same 210km/h speed rating but is 20% lighter and boasts a 60% faster airflow rate for inflation as well as deflation.
Furthermore, the aluminium core option is more economical than brass. However, rest assured you will still obtain a premium product, as each valve undergoes rigorous quality checks. But don't just take our word for it - TÜV Süd recognises the manufacturing process as a Quality Management System that fulfils the requirements of IATF 16949.
Product codes are as follows:
TR413 Snap-In with Aluminium Core: 1-102AL
TR414 Snap-In with Aluminium Core: 1-103AL
To place an order or obtain further information from our dedicated sales team, please call +44 (0) 116 284 7730 or email us.
P.S. Don't forget to download our sleek Valve and Accessories Catalogue, which categorises our complete collection into sections with product imagery, corresponding part numbers and specifications for optimum browsing.