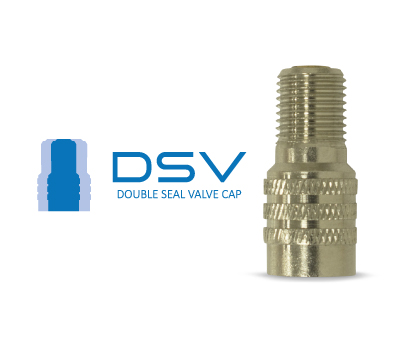 Hamaton Launch New "DSV" Double Seal Valve Cap at Autopromotec 2017
29-05-2017
TPMS and tyre valve manufacturers, Hamaton Ltd, recently announced the launch of an exciting new addition to their valve range at the Autopromotec exhibition in Bologna, Italy. The new Double Seal Valve Cap (or "DSV" cap) is designed to replace
With up to 18 wheels per vehicle and an equal amount of valve caps to remove, checking the air pressure in truck tyres can often be a highly arduous and time-consuming task. Particularly in colder climates and in icy weather conditions, valve caps can seize up and become more difficult to remove, meaning that more time (and therefore money) is wasted on extensive tyre maintenance. Removable valve caps can also be forgotten or lost after the air pressure has been checked, resulting in further costs.
Hamaton's DSV cap provides a solution to this problem, as pressure checking and inflation can be achieved directly through the valve cap. This provides a reduction in pressure check times by up to 65%, and significantly minimises standstill periods. Since the end of the cap is completely sealed, this means it also avoids the ingression of dirt and water; protecting the valve core from corrosion and increasing its lifespan. The valve seals in the same way as a high-pressure valve cap, yet offers the convenience of an inflate-through extension.
The efficient design of the DSV cap allows for one of the fastest air-flow rates on the market, meaning that correct tyre pressure can be quickly and easily maintained. This not only reduces operational costs, but also increases tyre life, lowers fuel consumption, and improves safety for the driver, the vehicle, and its cargo.